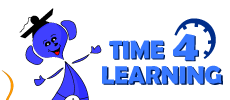 As a member of the TOS Review Crew I recently received a month long membership to
Time 4 Learning
for the purposes of review. I had used this curriculum before so I just used the time to refresh my memory.
I have two children that were able to utilize this curriculum and I have to say that it was all over the place in our ability to utilize this program. Sissy originally was Pre-K when she started this program, she basically did the entire Pre-K curriculum in one day and was ready for K. We let her start K and decided that we really needed to pace her, she finished K in less than a week and started 1st grade. The jump in difficulty was dramatic, K too easy and 1st way too hard; although probably age appropriate.
Rylan started this program as a 1st grader, again way too easy; when he started 2nd the difficulty level jumped tremendously. He struggled with the reading and was essentially unable to do 2nd grade level work, there was really no where to go. I do have to say that Rylan loved the math and really enjoyed the flow of the lessons. Sissy loved it, but it was either too easy or too hard and we weren't able to make it work for her. I wished I could say that we loved it, it just didn't work for us; so I'm just gonna give you the details and let y'all decide for yourself.
From their website:
No Contracts!
Cancel Anytime.
$19.95 / Month for Your
First Child
$14.95 / Month for Each Additional Child!
Time4Learning Members Get Access To:
Online Curriculum for Preschool to 8th Grade
1,000+ Student-Paced Animated Lessons
Math Exercises & Printable Worksheets
Language Arts from Phonics through Reading
Science & Social Studies In Most Grade Levels
Automated Reporting for Easy Record Keeping
Detailed Lesson Plans for Parents
Lessons Correlated to State Standards
Two week money-back guarantee!

My family is not the only one that utilized this program and I know that many others had different experiences. Please head over
here
to read additional reviews on Time4Learning.
(I received a one month membership to Time4Learning for the purposes of review. I received no other compensation and was not required to write a positive review.)