OK, I admit it, I did everything I could to avoid foreign language as a student; both in high school and college. I just didn't have a passion or see a purpose for it and I can't honestly say that I had a teacher that inspired anything in me. I have struggled with the need to teach my homeschooler foreign language, we have tried multiple times to begin a language program and have ended up dropping it, it just didn't inspire us. We have tried Spanish through a very popular program and a Latin program that everyone raved about....boring. If you can't inspire some sort of desire to learn in your student you have nothing but an uphill battle ahead of you.
Visual Latin
is a very different approach to teaching a seemingly complicated language. Dwane Thomas, the teacher of Visual Latin, is a breath of fresh air in an extraordinarily difficult subject. His approach to teaching the lessons is so engaging and refreshing that you find yourself looking forward to the next lesson. I love the approach of 'hear it, see it, speak it, think it', it just makes sense and really drills it without feeling like its drilling it. Not sure if that makes sense, but it's how we felt; we learned more in the first few lessons of Visual Latin than we did in all of the other language programs we tried... put together.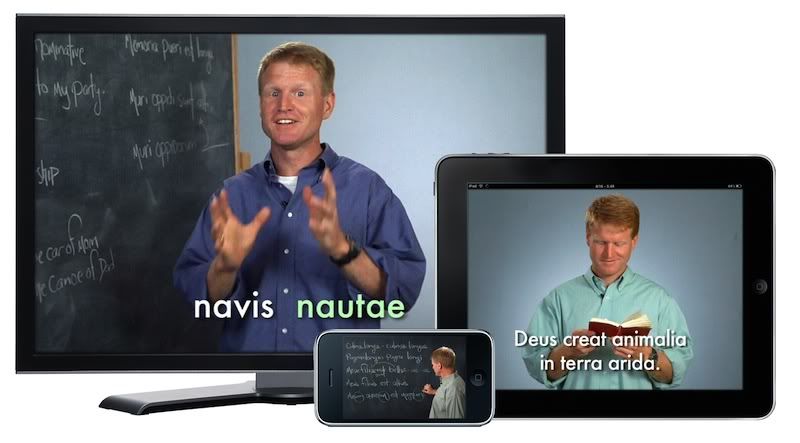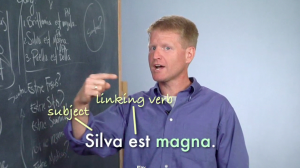 The other thing that is really unique about this program is Dwane himself, this guy loves his subject and literally infects you with his enthusiasm. We received the first 10 lessons of Visual Latin 1 and were simply blown away by the quality of the DVD production and the
PDF worksheets
available on the website to supplement the lessons. In addition if you are seeking to have this class fulfill credit for your high school student, they also offer online extension classes to increase the difficulty of the material and fulfill the requirements for high school credit.
Let's get down to the brass tacks of it all. $80 for the full 1 year Visual Latin 1 program (30 Lessons) is beyond a great bargain, it is Awesome!!!! The PDF worksheets are free, as are many resources on the
Visual Latin
website. The extension classes which I find particularly intriguing are a bargain at $115 for a
16-class course
, there are other expenses involved in this (the book) but I still find it be a great bargain for what is essentially a private Latin tutor for your student.
Don't take my word for how awesome this program is, head over
here
to see what others thought of Visual Latin and be sure to head to their
website
and check it out for yourself. You are able to download
6 free lessons
to check out the quality of the product. I really think that if your goal is to have your student enjoy learning a foreign language, you'll love this program.

(Visual Latin Lessons 1-10 was provided to me as a member of the TOS Homeschool Review Crew. I received no other compensation and was not required to write a positive review.)