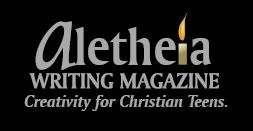 Recently, as a member of the TOS Review Crew, I received a copy of
Aletheia Writing Magazin
e to review. This magazine has been created by the Muzekari's to help showcase Christian teen writers and artists. When I received this product, I was in awe of the quality of the writing, photography and art in this magazine; as an amateur photographer myself I would have been thrilled to have someone showcase my work in such a beautiful setting.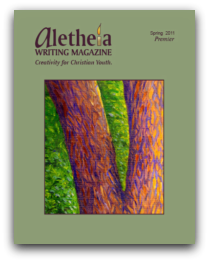 I read many of the articles in this edition and in the online edition that was offered to the review crew, the writing was incredible and thought provoking. Unfortunately, my teens are not terribly interested in writing or reading, I have to force both. Koty did read a few of the articles and thought they were interesting but he lost interest pretty quick. He did say that he thought the artwork and photos were great!
I really love the
idea behind the magazine
, Christian teens writing for other teens. I liked that the goal was to present the work, unsanitized and unaltered, just because they're teens doesn't mean that all of their thoughts are happy and easygoing. Yes, some of the articles tended to the dark, but we have to realize that are world is difficult and our children are dealing with difficult things everyday. What they write is an outlet for them and Aletheia is providing a great way for them to share their thoughts.
Aletheia Writing Magazine is $26 annually, this includes shipping and handling. You will receive 4 magazines a year with this subscription, the magazines are gorgeous; thick heavy paper and beautiful color printing. Of course, you also receive the incredible writing and artwork from some incredibly talented teens! Head over
here
to see the
Spring Edition
of the magazine, I think you'll be impressed.
You can head over
here
to see what other crew members thought of Aletheia Writing Magazine.

(I received this magazine and an online edition of the magazine free of charge for the purposes of review. I received no other compensation and was not required to write a positive review.)