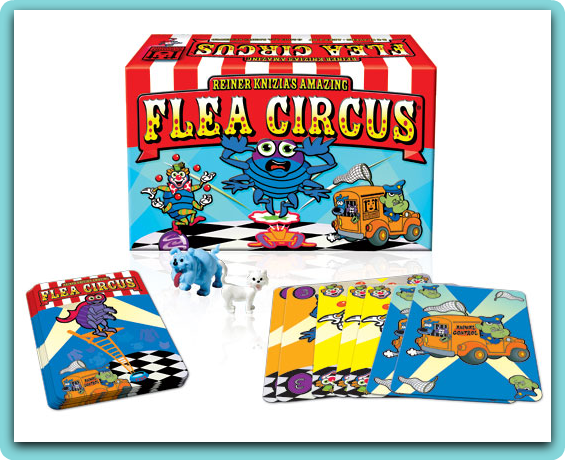 Recently, as a member of the TOS Review Crew I received the game Flea Circus from R&R games for review. I have to admit when we opened the package, the directions and rules turned me off. I struggled a bit with the wording of the directions, but we decided to just play and figure it out as we went along. Luckily, my kids are a little quicker on the uptake than their mom, so playing went a lot smoother than I had first imagined. It turned out to be a fun and engaging game that is perfect for it's target age range of 6 and up, my 6 and 8 year old loved it.
The websites description gives the best overview of this game, so I'm just going to share that with y'all.
STEP RIGHT UP! Calling all Cats and Dogs! The Flea Circus is about to begin!
It's a wild time under the Big Top as dogs and cats race from one show to the next. Players use their best Flea Circus acts to attract the most cats and dogs. Play your cards right and you can steal the audience away from your neighbor! But watch out for the Animal Catcher... He'll snatch your cats and dogs away!
With all this excitement, how's a Flea Ring Circus supposed to keep up? When all the cats and dogs are gone, whoever ends up with the most animals at their show wins the game!
R&R Games has a whole line of fun, family friendly games. We really enjoyed playing Flea Circus and at only $15.95 it's a bargain, but if you use the code CREW20 you will get 20% off of this already great price. This code is good for any purchase on their website, so be sure to head over and see if there are any family friendly games that strike your fancy.
Other crewmates reviewed a fun looking game called Pig Pile, so be sure to head over here to see those reviews.
{I received this game for the purposes of review as a member of the TOS Homeschool Review Crew. I received no other compensation and was not required to write a positive review.}