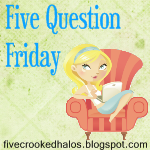 1. Have you ever had surgery?
Yes, I have. I had an emergency gallbladder removal while on a Disney vacation in California and if that isn't bad enough it was on my wedding anniversary, which is what we went to California to celebrate.
Late last year I had an hysterectomy, yeah me! Best decision I ever made.
2. Ever ride in an ambulance?
The only time I rode in an ambulance was when they were transferring my 4 month old (14 yrs now) from one hospital to another. He was being sent to the local Childrens' hospital for emergency surgery. He had intususception, a twisting of the intestines and was literally near death. When we got there they asked if they could try something experimental before they went for a full surgery, worst case would still be full surgery. We said absolutely and the rest is history. He never had to get surgery, the experimental procedure was to stick a tube up his rectum and just essentially fill his intestines with air until the twisted part straightened out, it worked!
3. How are you in a medical emergency? Panicked? Calm?
I'm pretty calm. I worked in the ER and for several years on an OB floor as a Surgical tech, blood doesn't bother me. I have a good sense of what qualifies as an actual emergency and what is just a childs mishap.
4. Do you have a garden? Flowers or veggies?
No never, I have a black thumb.
5.
When did you move out of your parents house?
I moved out at 18. I did end up going back for a few months at about 20, but got my feet under me and moved right back out.
Thanks for stopping by, head over here to see other 5QF bloggers.